Multitech brand is owned by SZOK Sp. z o.o. group who offers technical support service for events, specialising in image management and multimedia, on-line broadcasting, video broadcasting on screens and projectors with simultaneous transmission to the Internet. The company also offers video and animation production. In addition to video and multimedia, we have high-end sound and lighting equipment. We have a wealth of 7 years' experience in live productions of all types of events – from small modest events to technically complex festivals or concerts. Our customers include well-known, respected Polish and foreign brands that have trusted us for many years.
Multi-camera
on-line transmissions
.
We carry out professional transmissions to the Internet.
High-quality video equipment ready to o.o work in all conditions and carry out live broadcasts.
Our online broadcasts can be viewed on all desktop and mobile devices desktop and mobile devices
Slide
Sprzęt & przyjazna obsługa
Posiadamy profesjonalny sprzęt, zawsze stawiamy sobie wysokie wymagania, dbamy o jak najlepszy przekaz i komunikację z odbiorcą , co oznacza, że powierzając nam pracę możesz się zrelaksować i cieszyć się procesem twórczym.
Wypożyczamy również nasz sprzęt na potrzeby innych projektów tj. urządzenia transmisyjne, kamery HDSDI, miksery wideo oraz inne
Nasze transmisje są bezpieczne i w pełni konfigurowalne, transmisje mogą być umieszczone na stworzonych specjalnie stronach dopasowanych do charakteru wydarzenia i marki firmy. Podczas transmisji możemy wyświetlać każdego rodzaju materiały graficzno-filmowe
Slide
Nasz player wideo można umieścić w dowolnej witrynie internetowej a nasz zespół techniczny poprowadzi Cię przez cały proces. Player jest kompatybilny z wszystkimi znanymi przeglądarkami internetowymi oraz doskonale działa w wersji mobilnej na telefonach i tabletach.
Kiedy obraz wideo jest ciekawy widzowie częściej angażują się i uczestniczą w transmisji. Media społecznościowe to doskonały sposób na interakcję i budowanie społeczności. Możemy transmitować obraz na kilka platform równocześnie.
Slide
Nie będzie Internetu? To nie problem.
Jest łączność satelitarna oraz LTE. Coraz więcej wydarzeń odbywa się poza biurem, dzięki szybkości i dostępności złącza, możemy przesyłać dane w miejscach o niewielkim lub nie ustalonym dostępie do Internetu.
Aby zapewnić najlepsze rozwiązanie dla Twojej lokalizacji współpracujemy z dostawcami usług internetowych.
Narzędzie analityczne pozwalają śledzić ruch odbiorców ich miejsce oraz czas oglądania, co ma kluczowe znaczenie w określeniu skuteczności kampanii, śledzenia dystrybucji oraz zrozumienia potrzeb odbiorców.
Online broadcasts available
on all devices
.
We use the best tools available.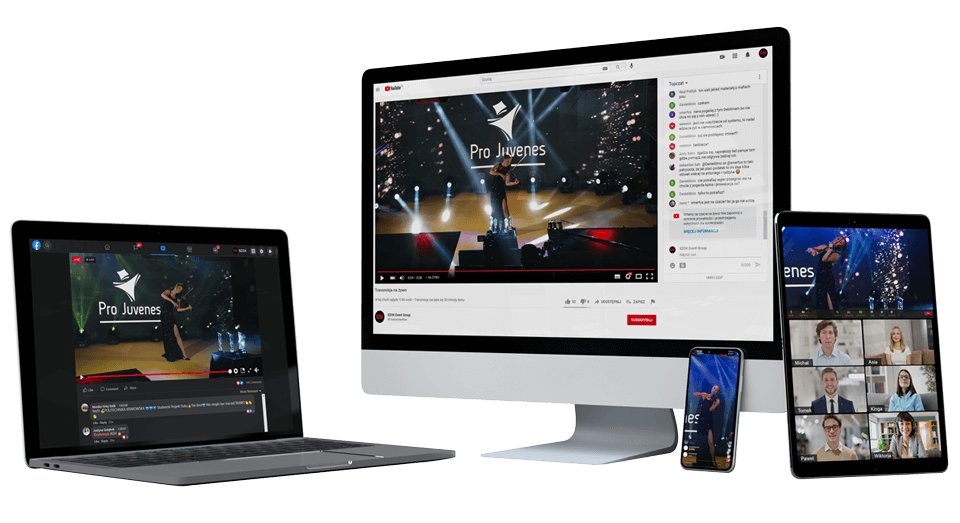 Streaming on Facebook, Youtube, Twitch.
.
We can directly broadcast to well-known social media platforms – even to several platforms at the same time!
In addition, we can broadcast with simultaneous live interpretation (in several languages) and sign language interpretation.
Professional productions
for all types of events
.
Passion breeds professionalism, professionalism yields quality.
Interactions
with the audience
.
By carrying out live broadcasts, you have the opportunity to get instant feedback from your audience in real time. Through comments and built-in chat, you can interact directly with viewers.
In our studio, recording or live broadcast from multiple cameras is possible. Using screen keying technology, we can replace the background with any image or create a virtual studio.
Video mixers
and video equipment
Remote-controlled
PTZ cameras
Transmit images to screens, projectors, LED walls
Our engineers will provide professional visuals throughout the country at:
– galas
– conferences
– training events
– presentations
We can provide additional screens, televisions, projectors, lighting and audio equipment to your event and make it more interesting by adding live broadcasts directly from the cameras.
We have an experienced staff of operators as well as high-end equipment.
Tell us about your event and we will offer you solutions.
You can put our video player on any website and our technical team will guide you through the process. The player is compatible with all known web browsers and works perfectly in the mobile version on phones and tablets.
We are a young, creative and, importantly, experienced team. Our operators prove themselves in alstage and weather conditions – things may happen but they DO NOT happen to us.

LIVE STREAMING
Comprehensive multi-camera solutions for VOD content and real-time live streaming to the  Internet .

VIDEO
As part of the services we provide, clients receive a recording of the sum of the material transmitted.

SOCIAL STREAMING
Facebook live, YouTube, Twitter and more. We offer simultaneous transmission to several platforms. A video may be transmitted to  several platforms at the same time.
YOUR BRAND CONTENT
Work with us to be at the heart of the Internet. We will create the right content to make your brand visible.
CONSULTING AND ADVICE
You have an idea/a concept of an event – share it with  us and we will surely come up with something.
INTERNET CONNECTION
We provide internet connectivity in all conditions – from LTE solutions to satellite stations.
PLAYER
We have a fully integrable player that works on all devices and browsers.
WEBCASTING
Comprehensive webcast services – analytics tool allows you to track audience traffic their location and viewing time.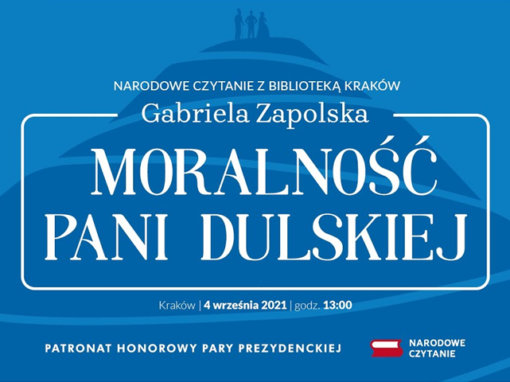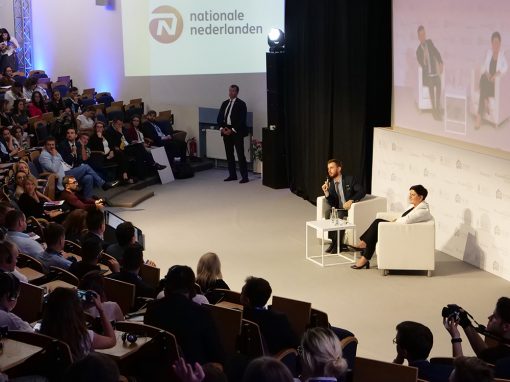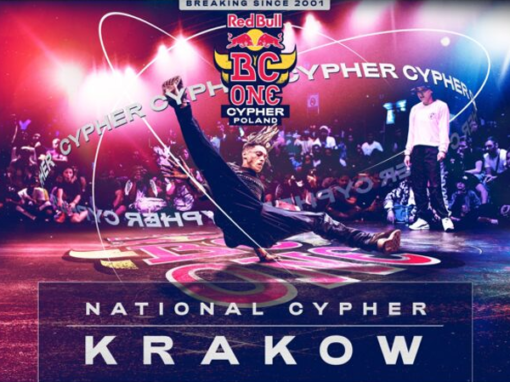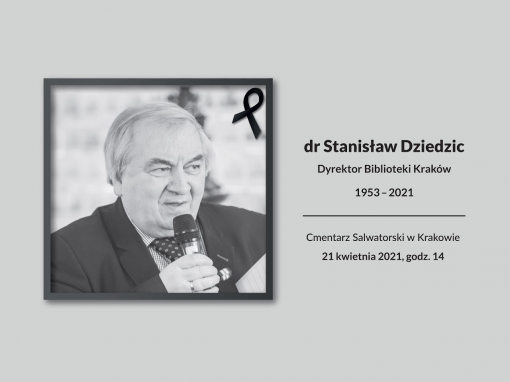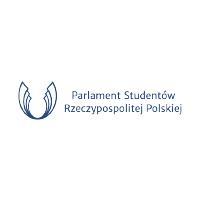 Find out more about our offer delivered via our company SZOK EVENT GROUP. We specialise in the all-in-one organisation of events with state-of-the-art technology. We provide SHOCKING visual and audio creations. We make animations and promotional films. We do professional multimedia production at the event.