promotional spots, corporate videos, testimonials, training events, after movie, recordings
We provide comprehensive video production and post-production. We take pictures and design animations, promotional films, aerial shots. We implement the latest virtual reality technology in the form of moving images, 360-degree footage.
Promotional films
advertising spots, tutorials, corporate films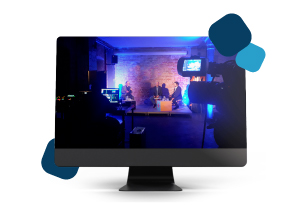 Animation and visual effects
Promotional films
advertising campaigns
Promotional videos are a modern tool for presenting goods and services. The film, depending on the needs, can present the company's products, its history, the modern technologies used in the company.
We create high quality, FULL HD footage that impresses with its dynamics, content and editing. We record what is important, unique, special – capturing the atmosphere through a combination of beautiful shots, perfectly fitting music and striking editing.
We take an individual approach to each project and use the best technology solutions.
Our team ensures the uniqueness and perfection of the materials created.
When organising even a small event, it is worth thinking about a short summary film of the event. It can be sent to participants as a souvenir and at the same time be promotional material for subsequent events organised.
Professional coverage of the event, which can be posted on websites, will certainly demonstrate the possibilities and encourage participation in future editions while showing professionalism and commitment.
As part of the coverage, we provide background music and voiceover, enriching it with appropriate animated elements created during post-production.
Animations for films
We enrich our film productions with tailor-made animations adopted to the needs of a productions. These are sophisticated, modern and dynamic moving images that fit effectively into the footage. We create special opening credits and intros and enhance the footage with special effects.
Animations for the Internet
Dynamic animations on websites are currently the key element used in their design. They most often appear as website headers (tops), banners (animated presentations of an advertising nature) or intros (first pages of websites). Animation and film footage is also currently being inserted as backgrounds to individual page elements. We use the latest dedicated animation tools to create these types of elements. Also note that Flash technology has already been superseded, but it still proves to be indispensable for some purposes. For this reason, in order to meet the expectations and needs of our clients – we produce animations in standards compatible with the planned advertising campaigns.
Animations to presentations
To capture the attention of business audiences, multimedia presentations include moving images in the form of presentations. Our animations may become an integral part of Prezi, Flash or PowerPoint presentations.
LED bands
animations for LED bands
Support of sponsors is necessary for sporting events to take place. Among state-of-the-art techniques for communicating sponsorship at sporting events is advertising displayed on LED panels.
We offer the creation of animations for telebim systems placed at sports venues at attractive prices. We produce animations based on the materials you send us, your logo, website, advertising slogan. We are experienced in designing dynamic and eye-catching advertisements presented on LED bands at major sporting events.
Aerial photography
aerial shots – drone
We photograph and film using an unmanned flying platform known as a drone. It is guaranteed that the most dynamic scenes can be captured with 240 fps camera resolution.
This allows for unique images with smooth and dynamic frame changes.
Our designs are used for advertising, tourism, business and private purposes.
360-degree films
virtual reality
Move on to the world of virtual reality!
We provide comprehensive spherical film recording and processing services.
+48 508 050 917, +48 663 277 823, biuro@multitech24.pl